What does it mean to you to Nurture your Creativity?
I believe that everyone is creative, and that like anything in life, creativity is a practice, and the more you practice, the better you become. Sadly so many people think that if you're going to engage in a creative activity, it needs to be…perfect. Yep I said it. As a recovering perfectionist, I can tell you, I know the feeling well. I have procrastinated plenty over needing the outcome of something to be perfect. But I don't think there really is such a thing. The perfectionist in you will always criticize you, tell you that you're wrong, it's ugly, it's not right, you don't know what your doing. Sound familiar?
I have learned that when those perfectionist feelings are creeping up on me, if I really dig deep, it really is just fear. Fear of creating something nobody will like, fear it won't turn out, fear I won't finish it…Oh that fear, she's a constant companion but not a friend. But I have learned something about fear, and that is, pushing her aside is a practice too, and one I am getting better at. The thing is when you try something and it works, you are likely to try it again, and again and again.
Many of the leaps I have taken in life, have been taken with little thought, and more feeling. The reason is, I learned a long time ago about myself that if I think about something long enough, I can talk myself out of anything!
I would encourage you to do this… when perfectionism is in your ear, telling you things, talk back and say you are going to play, be naive, have no plan, and not worry about the outcome. Try it again and again until it becomes a practice, because it is in this space, that you learn.
Take a look below and you will find some other best practices to nurture your creativity!
Join us in the Facebook group and tell us what you think!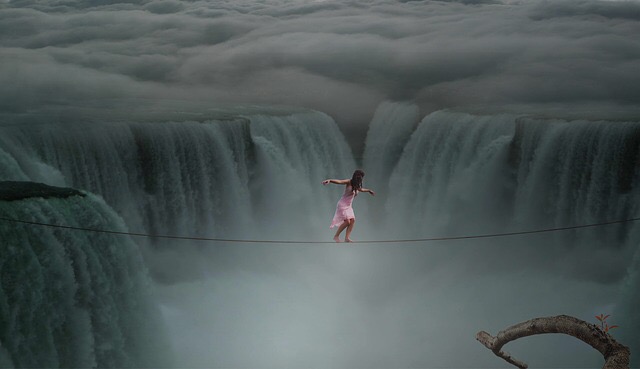 We all have fears. They can be debilitating, keeping us from being our best selves. I'm sharing with you some of the best practices I learned in a 6 week cognitive behavioral therapy session. I still use this best practice when my anxiety gets high or I am letting fear get in the way of my creativity.
Creativity Warm up and Practice
Once you have the supplies ready from the list I have provided you, feel free to try the creative warm up below. This will get you familiar with using some of the supplies and tools as we move forward. Please note that you will also need a spray bottle for this, and although we are working on watercolour paper, we will be using acrylic inks and acrylic paints.
I begin by taking a piece of the 9 x 12 inch watercolor paper and cut it in half lengthwise and then cut each of those in half again so that I have 4 squares of paper. You can use painters tape to place them down on a table to prevent them from curling up.
Remember as you go through this, it's just a warm up, and a warm up is meant to provide you the opportunity to play, learn the feel of using the products and loosen up your thinking brain and transition to your creative brain. We are not looking to make sense of what we are doing here.
Watch the short video below and then give it a try yourself. In a later video, another time, we will do another warm up using the same 4 pieces of paper so don't discard them! i will show you different ways that we can use our warm up papers in other projects.
This is a great way to warm up and play with ink!
Ink Play and Warm up Activity
My students in my All About the Layers Intuitive Painting class know how much I love ink! It is how I start all of my paintings, and it's one of the best classes in the workshop, as I get to see their play and wonder and excitement as they work with the ink! I have likely over 60 bottles of ink! Usually this is the only workshop I teach any kind of ink play and so I am really excited to show you a wee bit of what you are getting this month!
Below is a short video, where I show you an ink play and warm up exercise. Watch the video first and then practice your own. Don't forget to show us in the Facebook group! For this activity you will need:
2-3 acrylic inks, preferably colours that go well together

a small to medium paintbrush, the style is not important as you are just using it to move the ink and water

a jar of clean water

a piece of watercolour paper cut into 4
With your water and your brush, you want to draw a simple image, I started with a small vine of leaves. Once the water is in place, add a drop of ink in each leaf and spread the ink and water with your wet brush. Continue the movement until you get the desired shape.
Circles are also great, you can make them any size, and it's also fun to practice making them look like galaxies!
Tip: Make sure you have enough water so that when you put the ink down, you really get a nice spread out of the ink. My third and fourth sheet really represents this. Making one great big leaf that takes up nearly the whole page is fun, it's my favourite!
Water is really the only thing that helps the ink move, so here is where you are learning the ratio of water required to move your ink, and it takes some practice! You also will learn how much pressure to put on your ink dauber to release the ink. This is also a great way to play and practice and learn what colour combinations you like.
If you want to go back to any of your shapes to re-define them, you can do so by adding a bit more water to your brush, and once you place it down into the image, the water helps to reactivate the ink.
When you are done, cut out the shapes and we will use them at a later date! Have fun and let me know what you think!
Art Play Goodness
Remember the warm up we did at the beginning of the month? I am hoping you will take that warm up and continue on with some play! I have 2 different videos to follow. Please do this at your own pace, and remember, I am trying to keep all of these activities 30-60 minutes of duration for you, so you can be sure to fit them in! We can all find an hour of time each week!
For the first video we will be COLOR BLOCKING.
You will need:
Your original 4 pieces of warm up watercolor paper that you added ink and mark makings to

a medium size paint brush

white paint as well at 2-3 other colors that will work with the colors you used for the warm up

a jar of water to clean your paint brush off and paper towel to dry your brush.
Instructions:
Color blocking is basically adding paint to your warm up papers (or your canvas when you are painting on a canvas), in small or larger areas. We are using our 3-4 basic colors and mixing to create lighter or darker shades, and adding these variations of color to our paintings in small areas. Try doing this intuitively, not thinking too much about it, but let your hand just move with a color where you are being called to add it. You can use a dry brush here, or add a bit of water, making sure to clean off in-between if your colors are very different from each other. I am using a light and a dark turquoise and so I don't have to clean my brush too much.
I like to add paint to my corners, as this is personally where I struggle when completing a painting, and this helps me. Feel free to add more marks here if you like.
Be sure to watch the video first, it's under 5 minutes, sped up just a bit, so this is not a long activity at all. You will notice I use a hairdryer to dry my papers. There is no need to do this, you can just let your papers air dry, it should not take too long.

Adding a Shape to our warm up, color blocked papers.
We are still using our warm up papers, now they are color blocked and ready to finish! We will work on two here, and can save the other two for another time.
The following video is just over 7 minutes long. In this video, I will show you how to take your warm up piece, with the color blocking added, and using a large shape, such as a leaf, flower, feather or other botanical shape and finish it into a mini painting. Keep in mind, this is all a practice still, and that we are not striving for perfection. I am simply showing you some warm up techniques and how to take those warm up pieces a little further. It's all a practice and it's all about the process.
You will need:
a medium sized paint brush

white paint as well at 2-3 other colors that will work with the colors you used for the warm up

a jar of water to clean your paint brush off and paper towel to dry your brush.

your white or black paint pen
Instructions:
Making sure our paint is dry after our color blocking, we are going to start with using our paint pen to draw a shape, taking up most of the paper. Using our paint on a dry brush, we are going to basically paint out from our shape, using an opposite color of what is inside our shape. So if the predominant color inside the shape, in my case is the dark blue, I will paint out from that shape using a lighter color. Practice how you feel applying the paint, in an up and down motion, back and forth, or so on. You don't need a lot of paint, and you want to be sure the pressure on your paint brush is light. We do want our mark making in the background to show up! I like to use my fingers to give the paint a softer look, so test what that feels like too!
Once you have painted around your shape, try outlining your image with a marker to help it pop! If you don't like the look of that, you can try darkening the paint along the edge of your image. I tend to outline my image, it's kinda my thing to do! Please make sure before you use your paint pen or marker, that your paint is dry. Applying it to wet paint will break it and it just won't work anymore. You will notice I use a hair dryer to dry my paintings but that it completely optional.
Be sure to watch the whole video first and then give it a try! Happy playing!
My April Color Palette
If you are looking to practice with a different color palette, feel free to use this as your inspiration! Please note that color names can vary dependant on brand so I am just placing the color here for reference only and no name attached to it.